Embracing Autism Evening, Hear Our Voices
River Oaks Country Club
03.26.2022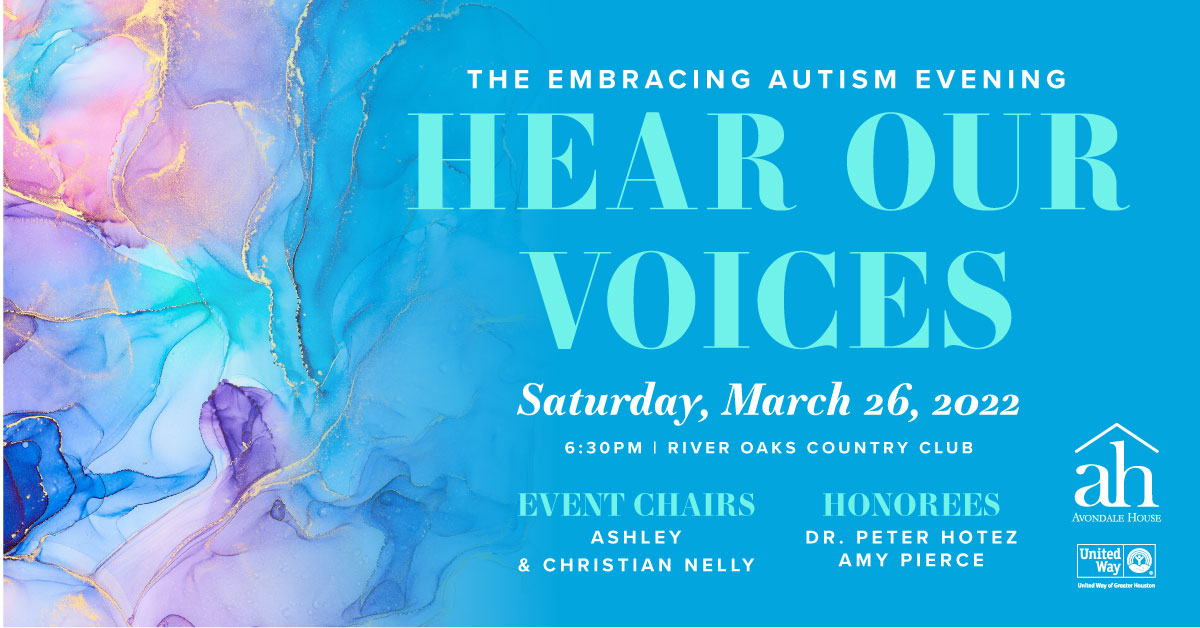 We are so thrilled to invite you to the 2022 Embracing Autism, Hear Our Voices Evening, benefiting Avondale House. The event will take place Saturday, March 26, 2022, at River Oaks Country Club. Please join us as we come together with our friends and community to honor Dr. Peter Hotez, Dean for the National School of Tropical Medicine at Baylor College of Medicine, our Medical Honoree, and Amy Pierce, our Community Advocate Honoree. Additionally, we will be featuring special entertainment- singer songwriters Brice Long, Phillip White, and Marla Cannon-Goodman. The event will be hosted by Kaitlin Monte from Fox 26 with general reception beginning at 6:30pm and the program beginning at 7:00pm.
With your help, we can expand our reach and continue to provide a safe, stable environment throughout the lifetime of individuals profoundly affected by autism. The proceeds from this event will allow us to purchase new agency vehicles which serve as transportation for community-based instruction, medical appointments, social outings, and more! Please join us by hosting a table at this highly anticipated event.
Thank you to our sponsors!
Gold
Ellen and Hank Bachmann
Ann and Randy Fowler
Hogan Lovells US LLP & Ann and Greg Hill
Ashley and Christian Nelly
Amy and Rob Pierce
Silver
Bowers Foundation
Cadence Bank
H-E-B
Ivy London Productions, LLC & Carole Keeney Harrington
Leslie and Todd Mogil
Jordana and Ken Fatur
Tu and Jim Teague
Ann Turnbach and Steve Ullrich
Mary Weldon and Guy Buckley
Mini Wadhwa and Scott Parazynski
Randa and Charles Williams
Stacie and Tim Williamson
Bronze
Laurie Hamilton Argo - Largo Consulting
Greggory Burk
Lulu and David DeAnda
Cara and Michael Johnson
Kaitlyn and Nathan Merz
Texas Children's Hospital
Gail Vozzella
Ed Wolff- Beth Wolff Realtors
Sponsor Couple
Diane and John Chaney
Mark Packwood- Brown & Brown Insurance
Elizabeth and Zach Strait